Capesize vessels, records, transshipment: the port of Pivdennyi is catching up with last year's results
September, 30th, 2021 - 16:10
---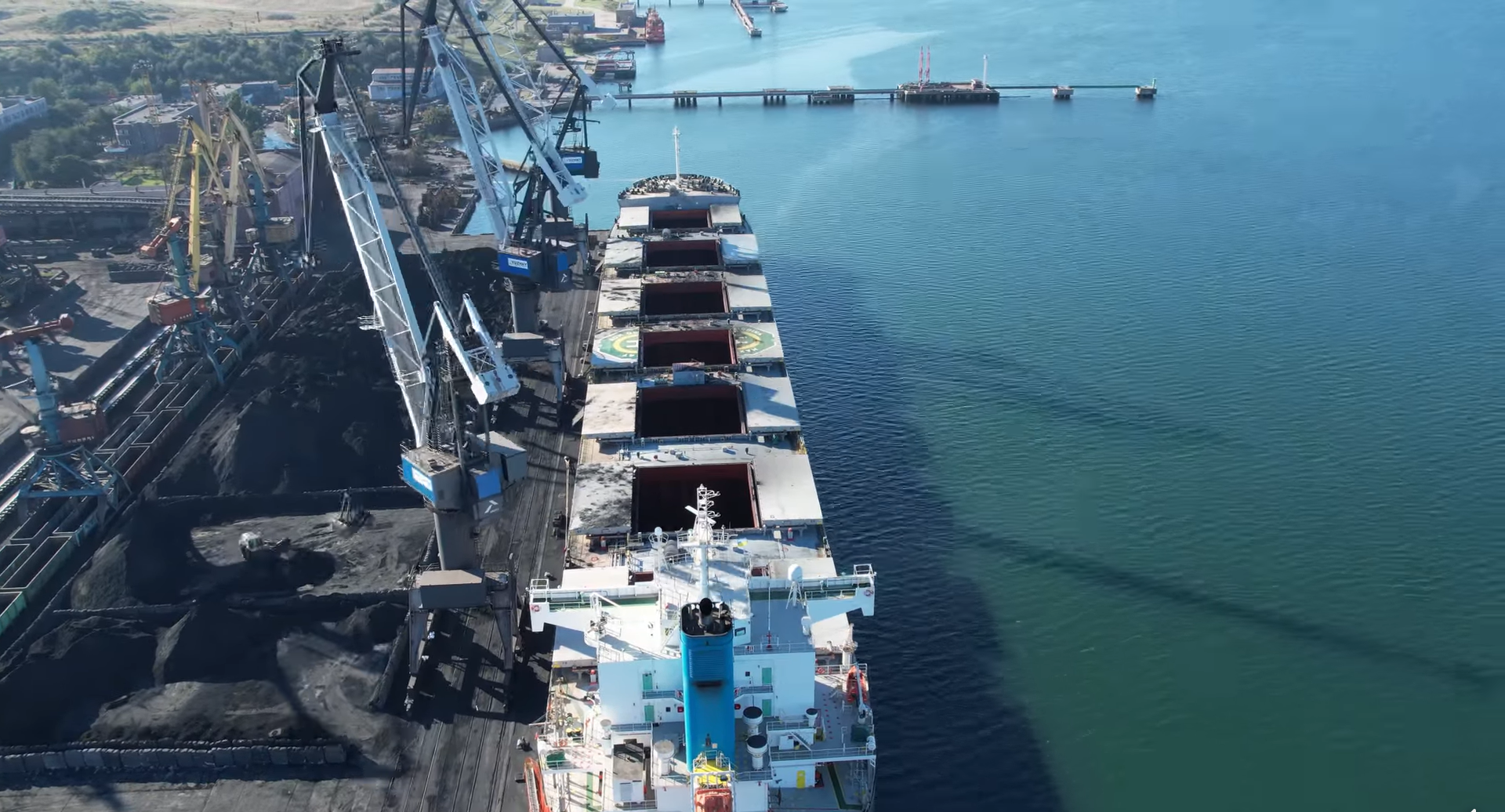 State Stevedore "Yuzhny" is breaking its own records in cargo handling, and the whole port is trying to keep up with last year's figures.
At the SE "CSP Yuzhny", the bulk carrier Aom Georgina was handled at a record speed for the enterprise: almost in a day, the dockers loaded 79.7 thousand tons of iron ore concentrate (iron ore concentrate) from the Ingulets Mining Complex onto the vessel. For comparison, 31 thousand tons of rolled steel were being loaded recently for more than a week at the State Enterprise "CSP Chornomorsk".
The average daily rate of vessel handling in the CSP Yuzhny was 67.1 thousand tons, which is almost twice the usual rate of 35 thousand tons.
In general, 10 vessels are handled in the port of Pivdennyi at the moment. Among the cargoes are iron ore concentrate, pellets, carbamide, wheat, palm oil, soybeans, as well as rapeseed meal and oil. At the end of loading and unloading operations, 605.8 thousand tons will be added to the total cargo turnover.
Two of the vessels that are currently being handled in the port are capesize vessels. In total, from January to September, 89 such vessels with a deadweight of more than 150 thousand tons each were handled in the port of Pivdennyi. In general, during this period, the port handled 700 vessels.
According to the Ukrainian Sea Ports Authority, from January to August, the port of Pivdennyi handled 32.7 million tons of cargo, which is 22% less than in the same period in 2020.
During this time, the port handled the most cargo of ore and grain. It was handled 18.5 million tons of ore in the port – 24% less than a year earlier; grain – 5.1 million tons, 10% less than in the same period last year.
In Pivdennyi, the Port Development Plan, approved in 2019, is being implemented. The main points in the "to do list" of the port are an increase in the depths in the water area up to 21 m (now the depth of the main berths is up to 19 m), as well as the reconstruction and construction of new terminals and berths. The port is planned to be modernized by 2029.
---
You may also like