Record freight rates: what is the world preparing for?
---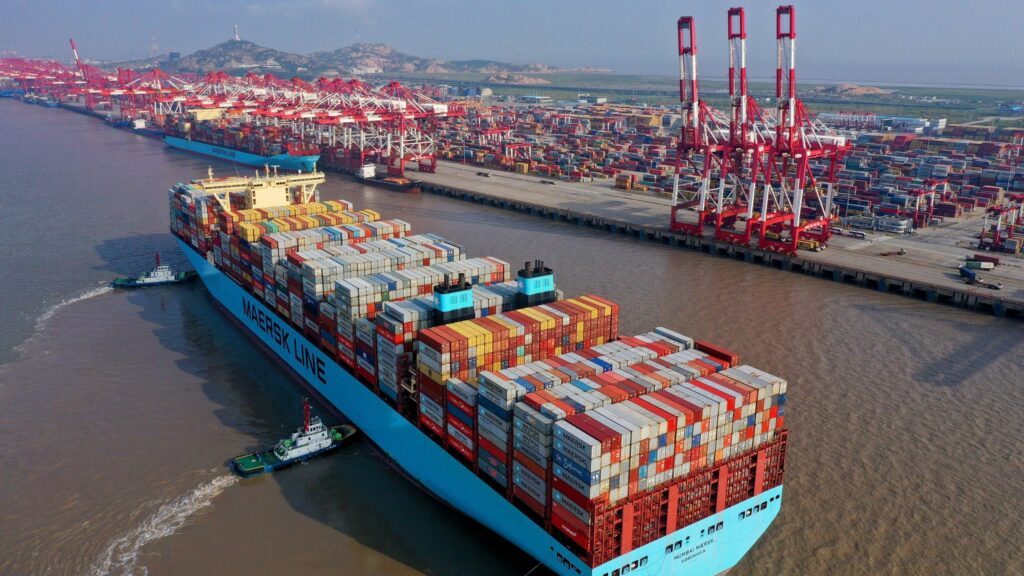 Freight rates are breaking all records: at the end of June, six-digit numbers were requested for container vessels with a capacity of 2.8 thousand to 5 thousand TEU. USM figured out what caused the rise in freight rates, why they will not drop in the near future, and what consumers can expect.
What's happening?
Freight rates are breaking all records. So, for example, at the end of June for container vessels with a capacity of 2.8 thousand to 5 thousand TEU they asked for six-digit numbers. In early June, the 15-year-old container vessel "S Santiago" with a capacity of 5 thousand TEU was chartered for 45-90 days at a rate of 135 thousand dollars per day. Another container vessel – "CO Osaka" with a capacity of 4.5 thousand TEU was chartered for two months at a rate of 125 thousand dollars per day.
"It has already become normal to charter container vessels up to 5 thousand TEU for a short period of time – from 2 to 4 years. The shorter the charter period, the more benefits the vesselowner will receive. If you have a suitable vessel in the right place, you can get astronomical rates in the short term," explained Konstantin Baak, CEO of MPC Container Ships.
For a better understanding of how profitable freight rates are now for vesselowners, Baak shared one example. MPC Container chartered a container vessel with a capacity of 2.8 thousand TEU at a rate of more than $ 100 thousand per day for a period of 65-80 days. The company acquired the container vessel in 2008 for $ 8 million. If you count – only on a short-term charter agreement, MPC Container receives $ 8 million.
"This gives an idea of ​​how much investors are interested in the market at the moment," said Konstantin Baak.
He added that this year the company has chartered about 30 vessels, and the extension of charter agreements for another 26 vessels is ahead.
"There are practically no free vessels," Baak said. "And, very importantly, when container vessels are chartered for several years, they leave the market until their charter expires. Consequently, the market will shrink even more."
Just one thing: with superhigh rates, some vesselowners still prefer to sell vessels.
Separately, it should be noted that in the first half of 2021, 277 used container vessels were sold, which is 104% higher than in the same period of 2020 (136 container vessels). The most sold were feeder container vessels with a capacity of 100 to 3 thousand TEU.
Why are freight rates breaking records?
The first thing worth noting is the catastrophic emergencies. Here is COVID-19, which disrupted all global supply chains and created additional consumer demand; the blocking of the Suez Canal by the container vessel Ever Given, which made every vesselowner nervous for a week, whose vessel is stuck in congestion in the region.
The new one is coronavirus in ports in southern China, in particular, in the port of Yantian (one of the five largest ports in the world). Consequences: downtime of more than 300 liner vessels, congestions around the world, cancellation of calls to major European ports.
Another reason for the rise in freight rates is the desire of vesselowners to maximize their profits. And it's not about greed: the charter market itself is unstable and hasn't shown any growth trend in recent years. Therefore, now vesselowners will "squeeze as much as possible" at the first opportunity to maximize profits and cover early costs.
Market analysts note that freight rates were also affected by trade tensions between China and Australia, inflation and tonnage shortages. But the question remains open: when will the freight rates return to "before covid" values ​​and will they return?
Freight rates will not drop now
A little pessimism (or optimism if you are a 5,000 TEU container vessel owner) – there is no sign of relief in the short term. According to forecasts from abroad, freight rates will continue to rise in the second half of this year.
Reason one: a global imbalance in supply chains. The pandemic exposed not only health problems, but also the reluctance of all participants in the supply chain to act together. We are now seeing an imbalance in production, demand and delivery, as countries "locked down" and "reopened" at different times, and shipping companies were cutting capacity on major routes and reporting empty container shortages.
Growth chart of freight rate indices, 2018 – May 2021: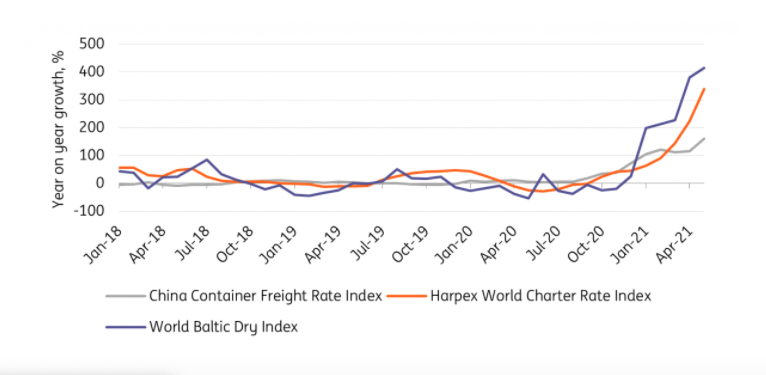 China Ministry of Transport, Harper Petersen & Co. and Baltic Exchange via Macrobond, ING
The second reason: there are very few alternatives to sea transportation. For more expensive goods, alternative modes of transportation are usually possible, such as air or rail delivery, not least along the Silk Road. But capacity is also currently limited, and tariffs have surged. For shippers of lower value goods, such as those selling household items and the like, freight costs have increased from about 5% to more than 20% of the value of the item itself.
Another reason: non-linear economic recovery in 2021. Some countries are already exporting more goods than before the pandemic, while others are still lagging behind production. And among the countries from the second example, even the United States is noted. Add the aforementioned competition and we get another imbalance – an unbalanced recovery will exacerbate some of the problems of world trade, for example, the problem with the movement of empty containers. Together, this will increase the pressure on freight rates in the near future.
Port congestion and closures also continue to create delays, which certainly affects freight rates. However, there are some signs that average productivity will start to improve, as the proportion of vessels arriving at their destination on time stopped declining in April and average delays decreased. But the overall rate of vessels "past traffic jams" remains the lowest in the last ten years – and this is an anti-record.
Proportion of vessels that arrived on time: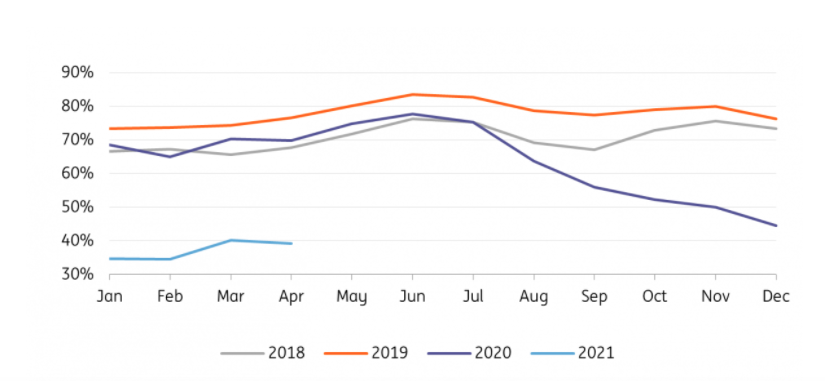 Source: Sea-Intelligence, ING
The port of Yantian has had a domino effect on freight rates – and there is no guarantee that the coronavirus will not break out again in Chinese ports. While the Celestial Empire and other major trading nations are rapidly vaccinating critical infrastructure workers, it will take time to build up immunity, and therefore situations like Yantian will remain a risk.
How will this affect the consumer and what will happen next?
The container shipping industry plays a very important role in world trade due to the low shipping costs. And high freight rates are bound to start to take their toll on the cost of consumer goods.
Sea-Intelligence CEO Alan Murphy recently calculated that on the Trans-Pacific Route, rising freight rates for, for example, assembled furniture has driven the price of assembled furniture up 62% of its total retail value. The same is with large household appliances, for which up to 41% of the retail price is shipping.
Container shipping rates continue to rise steadily, and the prices of these goods cannot be reduced – their lower margins make it impossible to cover rising costs. And soon we will see an increase in the prices of consumer goods that are delivered by sea.
Now the price pressure will be reduced only by the increase in capacity – but this will not happen until 2023. Container lines showed positive financial results during the pandemic, and in January-May 2021, new orders for container vessels reached a record level of 229 vessels with a total cargo capacity of 2.2 million TEU. And the upcoming increase in the throughput of sea freight will help reduce transport costs, but still does not promise that freight rates will return to the "before covid" level.
Ruslan Soroka
Based on materials from ING, Sea-Intelligence, MPC Container Ships, SeaNews
---
You may also like