The sunken vessel with Ukrainian cargo was lifted and is towed to Varna
October, 27th, 2021 - 14:50
---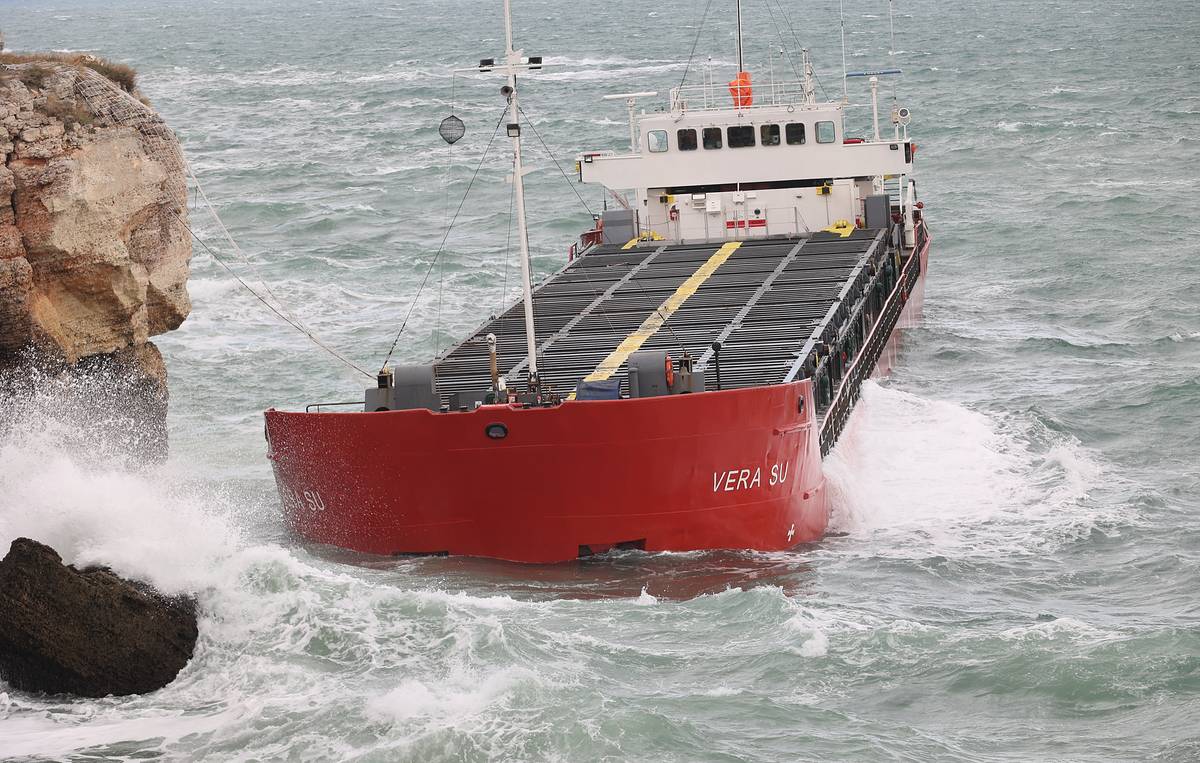 In Bulgaria, the sunken Turkish vessel Vera Su, which was carrying a cargo of carbamide from the Odesa Port Plant, was raised.
The vessel was raised 37 days after it stumbled on the coastal cliffs near the Yailata conservation area. The emergency situation was canceled, as reported by the administration of the Bulgarian region of Kavarna.
"Visits to the protected area were prohibited by the order of the Head of the Kavarna administration til the end of October, but due to the elimination of the crisis and the evacuation of the damaged vessel, Yailata is opened again for appraisers of historical sights and nature," the Kavarna administration said.
The dry cargo vessel was towed to a shipyard in Varna.
As a reminder, on September 20th, in the Black Sea off the coast of Bulgaria, the vessel Vera Su ran aground due to a navigational error. The dry cargo vessel transported fertilizers from the terminal of the Odesa Port Plant (Pivdennyi Port) to Varna. Nobody was hurt during the incident.
Later, the dry cargo vessel began to leak – a spillage of nitrogen fertilizers was discovered in the sea. Even a week after the incident, they could not agree on the operation to free the vessel. The option of dumping part of the cargo into the sea was rejected by the company, which is engaged in rescue operations.
On September 25th, the Bulgarian diver Nayden Nedev examined the hull of the bulk carrier. In an interview with BTV, he said that in the bow of the vessel, he found a fertilizer spillage through holes in the hull. Due to the muddy water because of the spillage, it was not possible to inspect the holes. The diver took water samples and sent them to a specialized laboratory.
Local rescuers were unable to lift Vera Su from the shallows. When trying to remove the dry cargo vessel from the shallows, the towing ropes did not sustain, as reported by the Ministry of Environmental Protection and Water Resources of Bulgaria. The work was carried out by the services of the executive agency "Maritime Administration". It was reported that some of the cargo fell into the sea. Then the dry cargo vessel sank.
Reference: Vera Su is a Panama-flagged dry cargo vessel, built in 1989. Home port – Panama. Deadweight – 3,217 tons.
---
You may also like