FueLNG completes bunkering of Singapore's first LNG oil tanker
---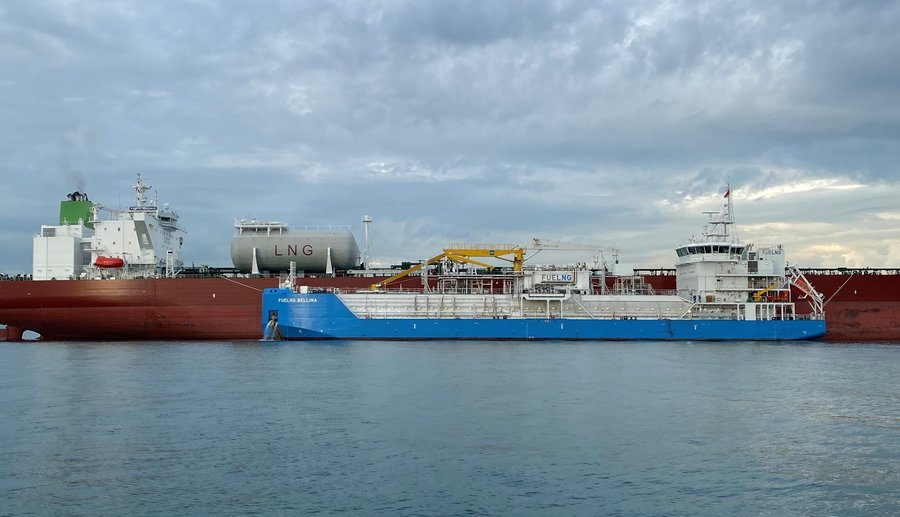 In Singapore, FueLNG, in cooperation with the Singapore Maritime and Port Authority (MPA), has completed the bunkering of an LNG tanker.
According to the "Offshore-energy" publication, FueLNG (a joint venture between Keppel Offshore & Marine and Shell Eastern Petroleum) has completed the operation of LNG bunkering to m/t "Pacific Emerald".
The company's press service also said that the tanker was bunked using the FueLNG Bellina, Singapore's first LNG bunkering vessel.
The LNG oil tanker Pacific Emerald is the first of 10 new Aframax tankers chartered by Shell Tankers Singapore from Sinokor Petrochemical.
Kua Lei Hong, Executive Director of the MPA, commented on the vessel's bunkering: "Singapore is delighted to host the first ship-to-ship LNG bunkering. Today marks another milestone on the road to Singapore becoming a hub for LNG bunkering. We see an increased interest in LNG-fueled vessels, and more and more such vessels are being ordered for various types of cargo. We look forward to increasing the use of LNG fuel in the Port of Singapore."
FueLNG aims to provide a total of 30 to 50 LNG bunkering operations in 2021. In addition to Aframax tankers, FueLNG has also built bunkering operations for container ships, chemical tankers and bulk carriers.
---
You may also like